Water-Efficient Shower Heads
The EPACT '92 government-mandated flow rate is 2.5 gpm for shower heads, per the ASME.A112.18.1/CSA.B125.1 industry standard. Water-saving shower heads typically range from 1.5 gpm to 2.0 gpm, which represents a 20% or greater water savings.
The Delta H2Okinetic® water-efficient shower head operates at 1.5 gpm to 2.0 gpm, delivering 20%–40% less water than a standard shower head, while providing a satisfying shower experience. This innovative technology sculpts the water into a unique wave pattern, creating the feeling of more water without using more water. It has won numerous awards, including a 2007 Stevie Award, a 2007 silver ADEX award and a 2007 Most Valuable Product (MVP) Award from Building Products magazine.
The following are some water-efficient shower heads: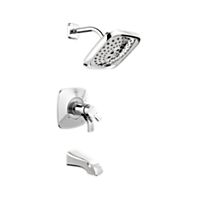 View Larger
Tesla TempAssure 17T Series H2Okinetic Tub and Shower Trim
List Price as shown:1
$575.70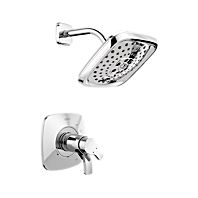 View Larger
Tesla TempAssure 17T Series H2Okinetic Shower Trim
List Price as shown:1
$565.70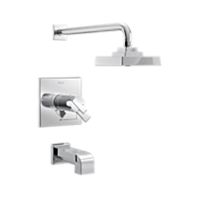 View Larger
Ara TempAssure 17T Series H2Okinetic Tub and Shower Trim
List Price as shown:1
$521.80
View Larger
Victorian Monitor 17 Series Tub and Shower Trim
List Price as shown:1
$471.65
Finishes / Specs
Smart Solutions
View Specs, Dimensions, Installation Instructions and Parts Diagrams
Exclusively available at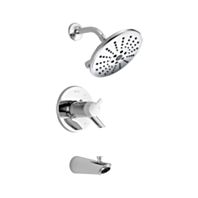 View Larger
Compel TempAssure 17T Series H2Okinetic Tub and Shower Trim
List Price as shown:1
$452.30
View Larger
Ara TempAssure 17T Series H2Okinetic Shower Trim
List Price as shown:1
$452.20