In2ition® H2Okinetic® 4-Setting Two-in-One Shower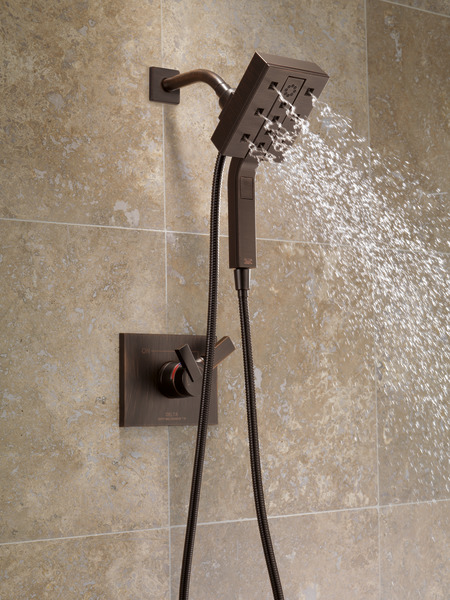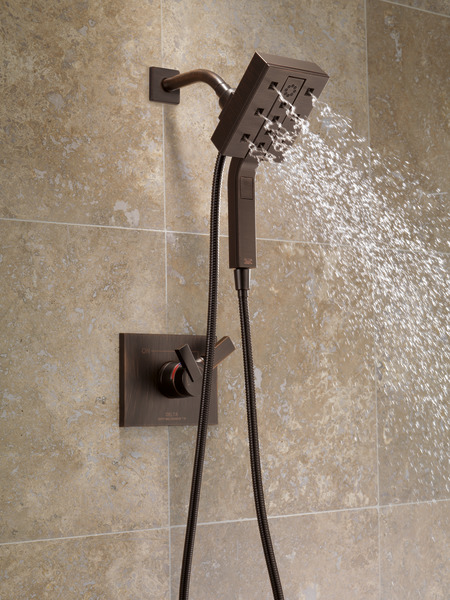 In2ition® H2Okinetic® 4-Setting Two-in-One Shower
Use In2ition shower head/hand shower combo together or separate
Product features
Prepare yourself for the feeling of more water with H2Okinetic Technology®. H2Okinetic® provides a truly better shower experience. The warm, drenching water coverage is the result of a denser water pattern and larger droplets that retain their heat longer to soothe and revitalize. The In2ition™ shower features a detachable handshower, which can run separately from or simultaneously with the showerhead, giving you the warmth and flexibility of two streams of water at once. Enjoy the comfort of water streaming from the showerhead position, while the handshower offers the flexibility to accomplish other tasks, such as bathing your children; washing your pet; and keeping your shower clean. When you're finished, simply slip the handshower back into place on the showerhead. The In2ition Two-in-One Shower is a quick and easy way to upgrade your shower. Simply remove your current showerhead and replace with the In2ition shower. There's no need to go behind the wall to enhance your everyday shower. Innovative Pause feature allows you to conserve water while lathering up.
Diverter lever sets In2ition Two-in-One Shower to one of three options: Showerhead and Hand shower, Showerhead only, and Hand shower only
MagnaTite technology securely docks the hand shower to the shower head
H2Okinetic Technology sculpts the water into a unique wave pattern, giving the feeling of more water without using more water
Pause feature reduces the water to a trickle, allowing you to conserve water while doing tasks such as lathering up or shaving your legs
Spray settings include: H2OKinetic, H2OKinetic with Massage, Massaging
Includes 60 in. hose
Assembled dimensions: 10-15/32 in. H x 4-31/32 in. D x 4-17/32 in. W
Technology
H2Okinetic® Technology
Delta's proprietary H2Okinetic® Technology creates a shower experience like no other. Each shower head and hand shower contains an internal system that controls the speed, movement and droplet size of the water, which creates the feeling of more water than a standard shower flowing at the same rate.
MagnaTite® Docking
The pull-down spray head utilizes a powerful magnet which keeps the wand securely in place when not in use. No more dangling!
Special Features
In2ition®
Use the integrated shower head and hand shower together or separately to get water where you need it most.
Documents & Specs
Product Support, Repair Parts & Technical Specifications
Installation Information
2.5 gpm @ 80 psi, 9.5 L/min @ 552 kPa
H2Okinetic ® Spray,H2Okinetic ® Spray with Massage,Massaging Spray,Pause
Reviews
Q&A