HydroRain® H2Okinetic® 5-Setting Two-in-One Shower Head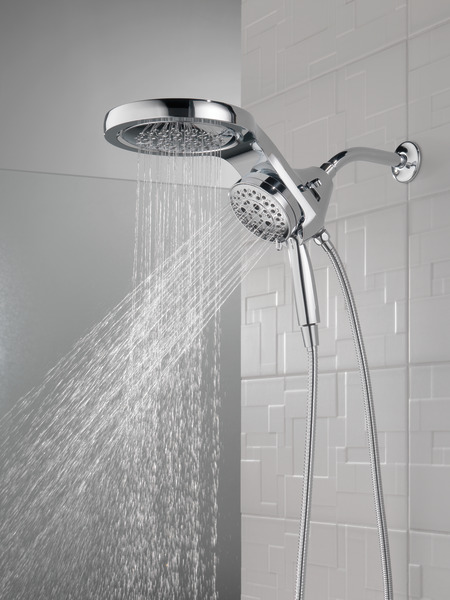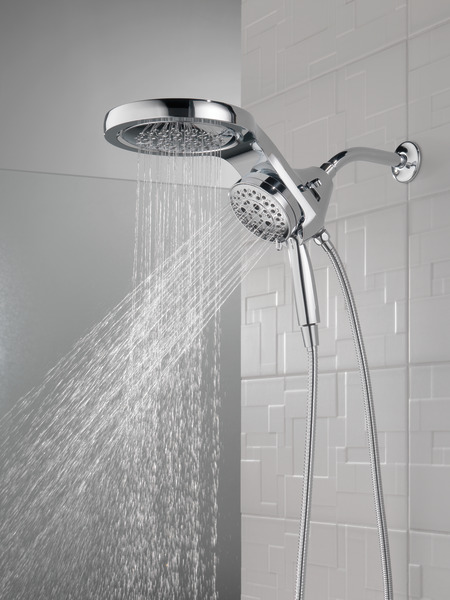 Product features
A Delta® HydroRain® H2Okinetic® Two-in-One Shower Head with hand shower completely transforms your shower with dual shower head functionality, featuring an integrated raincan and hand shower. The power of the raincan and hand shower together creates an immersive, spa-like showering experience that you can install in minutes to a standard shower arm, without altering the plumbing behind the wall. The integrated hand shower stays put every time you dock thanks to MagnaTite® Docking and provides maximum flexibility and control when you need it, while the H2Okinetic PowerDrench® Spray feels like more water, warmth and intensity without using more water. Don't just take a shower, transform it, with a Delta HydroRain Shower Head. While other products may gather unsightly mineral build-up over time, Delta soft rubber Touch-Clean® spray holes allow any mineral residue to simply be wiped away for an instantly refreshed look – with no need for soaking or the aid of chemical cleaners. The pause setting gives you ample space for shaving, lathering and other shower tasks, without worrying about overspray or water waste. This spray setting helps you conserve water, so you can worry less about depleting your supply of hot water - and you help the environment too.
H2Okinetic® Shower technology sculpts water into a unique pattern, forming a powerful drench spray
Gives you the feeling of more water without using more water
MagnaTite® Docking uses a powerful integrated magnet to hold your In2ition® Two-in-One Shower Head precisely in place for easy docking every time
Soft, rubber Touch-Clean® spray holes allow you to easily wipe away calcium and lime build-up from the spray face of your shower head and hand shower with the touch of a finger
Installs in minutes
Spray settings include: H2Okinetic PowerDrench spray, Full Body spray, Massaging spray, Shampoo Rinsing spray, and Pause
Pause feature reduces water to a trickle, giving you space for shaving, lathering and other shower tasks while maintaining your temperature settings
Includes 82 in. hose
Technology
H2Okinetic® Technology
Delta's proprietary H2Okinetic® Technology creates a shower experience like no other. Each shower head and hand shower contains an internal system that controls the speed, movement and droplet size of the water, which creates the feeling of more water than a standard shower flowing at the same rate.
MagnaTite® Docking
The pull-down spray head utilizes a powerful magnet which keeps the wand securely in place when not in use. No more dangling!
Special Features
Touch-Clean®
Rubber spray holes allows easy cleaning with the touch of a finger.
Documents & Specs
Product Support, Repair Parts & Technical Specifications
Installation Information
2.5 gpm @ 80 psi, 9.5 L/min @ 552 kPa
H2Okinetic ® Spray,Full Body Spray,Massaging Spray,Pause,Shampoo Rinsing Spray
Reviews
Q&A