Rough Valve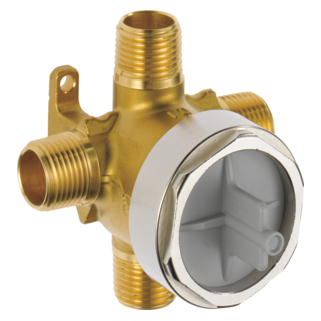 3- and 6-Setting Diverter Rough
Base Part
Product features
The prismatic faceting of the Trillian™ Bath Collection is an evolution of modern style that creates an edgy look which catches the light as well as the eye. Getting ready in the morning is far from routine when you are surrounded by a bath that reflects your personal style. The shower becomes your private sanctuary where body sprays and showerheads work in perfect harmony.
Trim kit only, must purchase rough-in kit separately
Must purchase rough-in kit R11000 sold separately
3 individual positions, 3 shared position
Single lever handle for ease of operation
1/2 in. rough-in
Includes valve cartridge
Special Features
ADA Compliant
Some people, and some local codes, require fixtures that are compliant with the Americans with Disabilities Act. If someone may visit who has special needs, or if you believe future buyers might appreciate this feature, Delta offers a range of compliant fixtures.
Documents & Specs
Product Support, Repair Parts & Technical Specifications
Reviews
Q&A
Part List