Rough Valve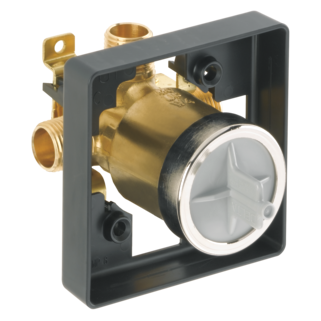 MultiChoice® Universal High-Flow Shower Rough - Universal Inlets / Outlets
Base Part
In Wall Tub and Shower Trim
List Price*:
Product features
Trim finish: chrome plated
Casted zinc alloy handle
Temperature only controlled with handle
Must also order MultiChoice universal rough R10000 separately
Special Features
MultiChoice® Universal Valve
MultiChoice® Universal Valve
The MultiChoice® Universal Valve allows you install one rough in the wall and then choose from three different shower functions as well as various styles.
ADA Compliant
Some people, and some local codes, require fixtures that are compliant with the Americans with Disabilities Act. If someone may visit who has special needs, or if you believe future buyers might appreciate this feature, Delta offers a range of compliant fixtures.
Documents & Specs
Product Support, Repair Parts & Technical Specifications
Installation Information
Single-function pressure balance cartridge
Reviews
Q&A
Part List