Valve is not included, must purchase separately
Monitor Valve protects from rapid changes in hot or cold water
Backed by Delta Faucet's Lifetime Limited Warranty
Rough Valve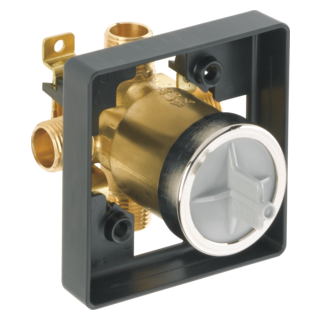 MultiChoice® Universal Tub / Shower Rough - Universal Inlets / Outlets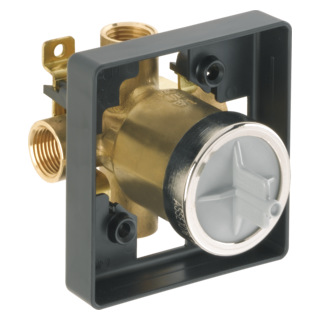 MultiChoice® Universal Tub / Shower Rough - IPS Inlets / Outlets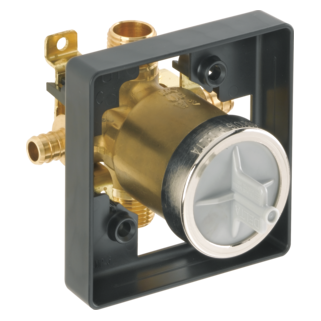 MultiChoice® Universal Tub / Shower Rough - PEX Crimp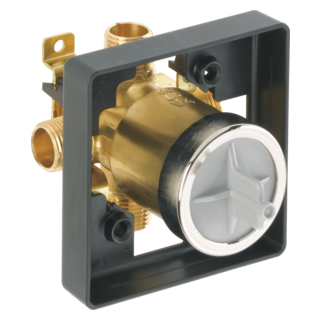 MultiChoice® Universal Tub / Shower Rough - Universal Inlets / Outlets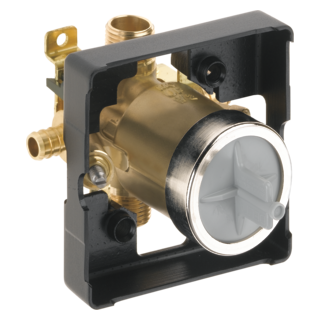 MultiChoice® Universal Tub / Shower Rough - PEX Crimp
MultiChoice® Universal Tub / Shower Rough - Universal Inlets / Outlets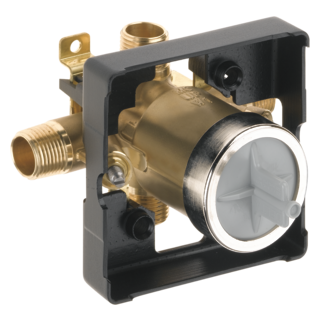 MultiChoice® Universal Tub / Shower Rough - Universal Inlets / Outlets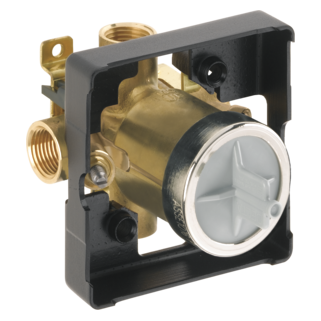 MultiChoice® Universal Tub / Shower Rough - IPS Inlets / Outlets
Base Part
Monitor® 14 Series Shower Trim
Due to water restriction laws, this product may not be eligible for purchase in your area. For more information,
Product features
While other products may gather unsightly mineral build-up over time, Delta soft rubber Touch-Clean® spray holes allow any mineral residue to simply be wiped away for an instantly refreshed look – with no need for soaking or the aid of chemical cleaners. Delta® pressure-balance valves use Monitor® Technology to protect you and your family from sudden temperature changes. This Brilliance Stainless finish has subtle, warm undertones which make it an excellent match with nickel or stainless steel and is extremely versatile, complementing nearly any look, be it traditional, transitional or contemporary.
Monitor pressure balance valve keeps water temperature within a safe +/-3degrees F (+/-1.6degrees C), helping to protect you from sudden changes in hot or cold water pressure
Spray settings include: Full Body spray
Full body spray provides a steady, full-coverage spray perfect for every shower need, from rinsing shampoo from hair to relaxing tired muscles
Soft, rubber Touch-Clean spray holes allow you to easily wipe away calcium and lime build-up from the spray face of your shower head and hand shower with the touch of a finger
Trim kit only, must order MultiChoice® Universal Valve separately to complete the unit
ADA Compliant
Technology
Monitor®
Delta Monitor® faucets feature pressure balance valves, which protect against sudden temperature or pressure changes to keep the water in the shower within a safe ±3.6° F.
Special Features
Touch-Clean®
Rubber spray holes allows easy cleaning with the touch of a finger.
MultiChoice® Universal Valve
MultiChoice® Universal Valve
The MultiChoice® Universal Valve allows you install one rough in the wall and then choose from three different shower functions as well as various styles.
Brilliance® Finish
Many Delta products are made with Brilliance® finishes, which resist abrasions and discolorations better than traditional brass or even chrome.
ADA Compliant
Some people, and some local codes, require fixtures that are compliant with the Americans with Disabilities Act. If someone may visit who has special needs, or if you believe future buyers might appreciate this feature, Delta offers a range of compliant fixtures.
Documents & Specs
Product Support, Repair Parts & Technical Specifications
Installation Information
2.50 gpm @ 80 psi, 9.5 L/min @ 552 kPa
Single-function pressure balance cartridge
Reviews
Q&A
Part List