Monitor® 17 Series Shower Trim - Less Shower Head
Monitor® 17 Series Shower Trim - Less Shower Head
Rough Valve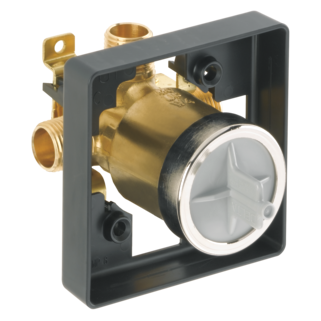 MultiChoice® Universal High-Flow Shower Rough - Universal Inlets / Outlets
Base Part
Monitor® 17 Series Shower Trim - Less Shower Head
Product features
With separate handles for volume and temperature control, this Delta tub/shower provides a more refined showering experience. Simply set the water at your preferred temperature and turn the shower on or off with the volume control handle - without interrupting your set temperature. Chrome has rapidly become one of the most popular finishes across décor styles in the bath thanks to its stunning gloss and innate versatility. Paired with crisp lines and bright whites, it creates a bold, modern contrast, but it works equally well with vintage styles and traditional spaces to convey a hint of nostalgia.
Control volume and water temperature independently with two separate handles for more refined control of your shower experience
Trim kit only, must order MultiChoice Universal Valve separately to complete the unit
ADA Compliant
Assembled dimensions: 9 in. H x 9-1/4 in. D x 6-1/2 in. W
Technology
Monitor®
Delta Monitor® faucets feature pressure balance valves, which protect against sudden temperature or pressure changes to keep the water in the shower within a safe ±3.6° F.
Special Features
ADA Compliant
Some people, and some local codes, require fixtures that are compliant with the Americans with Disabilities Act. If someone may visit who has special needs, or if you believe future buyers might appreciate this feature, Delta offers a range of compliant fixtures.
Documents & Specs
Product Support, Repair Parts & Technical Specifications
Installation Information
Single-function pressure balance cartridge
Reviews
Q&A
Part List