TempAssure® 17T Series Valve Only Trim
TempAssure® 17T Series Valve Only Trim
Valve is not included, must purchase separately
Set ideal temperature and adjust volume separately
Backed by Delta Faucet's Lifetime Limited Warranty
Rough Valve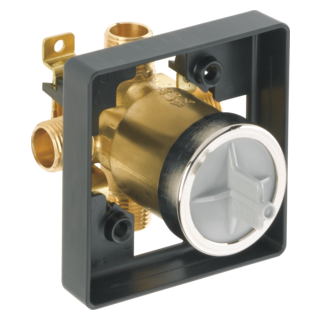 MultiChoice® Universal Tub / Shower Rough - Universal Inlets / Outlets
Base Part
TempAssure® 17T Series Valve Only Trim
Product features
The Zura™ design is a precise marriage of rounded, rectangular and triangular elements and offers innovative, geometric styling to complement Delta's current contemporary lineup. All Delta tub and shower faucets are engineered to keep the water temperature within a safe ±3.6° F (±1.7° C)*. This technology makes sure your family doesn't experience a sudden and possibly unsafe change in water temperature as a result of running water elsewhere, such as using a dishwasher, flushing a toilet or running a washing machine. Installing a Delta® MultiChoice® Universal Valve makes it faster, easier and less expensive to upgrade style, finish and functionality later. With separate handles for volume and temperature control, this Delta tub/shower provides a more refined showering experience. Simply set the water at your preferred temperature and turn the shower on or off with the volume control handle - without interrupting your set temperature. Delta® thermostatic valves use TempAssure® Technology to protect you and your family from sudden temperature changes. Designed to look like new for life, Brilliance® finishes are developed using a proprietary process that creates a durable, long-lasting finish that is guaranteed not to corrode, tarnish or discolor. Take the chill out of contemporary with the eloquent warmth of Champagne Bronze™ in your bath. This vibrant, gold finish provides a vivid splash of contrast to your space for a look that's simultaneously modern and nimble, able to pair elegantly with traditional, transitional, and contemporary décor.
Perfectly coordinates with the Zura™ bath collection for a cohesive, modern look
Control volume and water temperature independently with two separate handles for more refined control of your shower experience
TempAssure thermostatic valve keeps water temperature within a safe +/-3degrees F (+/-1.6degrees C), helping to protect you from sudden changes in hot or cold water pressure
Trim kit only, must order MultiChoice® Universal Valve separately to complete the unit
Metal lever handle meets standards set by Americans with Disabilities Act (ADA)
1/2 in. rough-in
Back-to-back installation capability
Field adjustable to limit handle rotation into hot water zone
Adjusts for up to 1 in. wall thickness
Graphics indicate hot/cold temperature adjustment
Special Features
MultiChoice® Universal Valve
MultiChoice® Universal Valve
The MultiChoice® Universal Valve allows you install one rough in the wall and then choose from three different shower functions as well as various styles.
Brilliance® Finish
Many Delta products are made with Brilliance® finishes, which resist abrasions and discolorations better than traditional brass or even chrome.
ADA Compliant
Some people, and some local codes, require fixtures that are compliant with the Americans with Disabilities Act. If someone may visit who has special needs, or if you believe future buyers might appreciate this feature, Delta offers a range of compliant fixtures.
Documents & Specs
Product Support, Repair Parts & Technical Specifications
Installation Information
Dual-function thermostatic cartridge
Reviews
Q&A
Part List