Monitor® 17 Series Valve Trim with 3-Setting Integrated Diverter
Monitor® 17 Series Valve Trim with 3-Setting Integrated Diverter
Rough Valve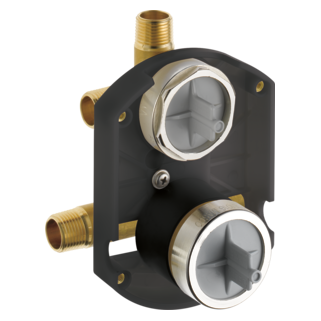 MultiChoice® Universal Integrated Shower Diverter Rough Universal Inlets / Outlets
Base Part
Monitor® 17 Series Valve Trim with 3-Setting Integrated Diverter
Product features
The confident slant of the Pivotal® Bath Collection makes it a striking addition to a bathroom's contemporary geometry for a look that makes a statement. With separate handles for volume and temperature control, this Delta tub/shower provides a more refined showering experience. Simply set the water at your preferred temperature and turn the shower on or off with the volume control handle - without interrupting your set temperature. With the MultiChoice® Universal system, you have the freedom to upgrade style and functionality later. And, because there's no need to alter plumbing behind the wall, you save time, effort and money on future renovation updates. You can install with confidence, knowing that Delta faucets are backed by our Lifetime Limited Warranty.
Two ports and three settings for two independent and one shared position
Control volume and water temperature independently with two separate handles for more refined control of your shower experience
Trim kit only, must order MultiChoice Universal Valve separately to complete the unit
Recommended rough-in valve kit R22000 sold separately
Meets standards set by Americans with Disabilities Act (ADA)
Not recommended for tub spout applications
Bottom handle 90° Maximum rotation
Red/blue indicator markings
Technology
Monitor®
Delta Monitor® faucets feature pressure balance valves, which protect against sudden temperature or pressure changes to keep the water in the shower within a safe ±3.6° F.
Special Features
Integrated Diverter
The beauty of the MultiChoice Integrated Shower Diverter is that you can use one rough to control two valves in the wall – providing you a streamlined solution that is easier to install and has a very appealing style.
ADA Compliant
Some people, and some local codes, require fixtures that are compliant with the Americans with Disabilities Act. If someone may visit who has special needs, or if you believe future buyers might appreciate this feature, Delta offers a range of compliant fixtures.
Documents & Specs
Product Support, Repair Parts & Technical Specifications
Installation Information
Dual-function pressure balance cartridge
Reviews
Q&A
Part List