Traditional 2-Handle Monitor 17T Series Valve Trim with 6 Setting Diverter
Traditional 2-Handle Monitor 17T Series Valve Trim with 6 Setting Diverter
Rough Valve
MultiChoice® Universal Integrated Shower Diverter Rough Universal Inlets / Outlets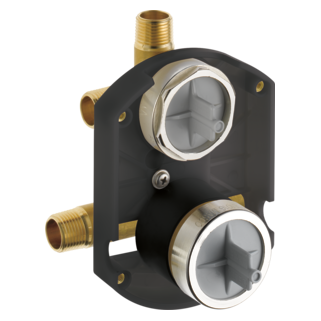 MultiChoice® Universal Integrated Shower Diverter Rough Universal Inlets / Outlets
Base Part
Traditional 2-Handle Monitor 17T Series Valve Trim with 6 Setting Diverter
Product features
The Dorval™ Bathroom Collection diverges from conventional expectations with regal accents and a powerful design that commands your attention. Inspired by the feminine lines of French architecture and the regal stature of German castles, the Dorval Bath Collection balances grace and power in this modern take on new traditional design. With separate handles for volume and temperature control, this Delta® tub/shower provides a more refined showering experience. Simply set the water at your preferred temperature and turn the shower on or off with the volume control handle - without interrupting your set temperature. Delta thermostatic valves use TempAssure® Technology to protect you and your family from sudden temperature changes.
3 individual positions, 3 shared positions
Top handle controls diverter functions
Bottom handle controls on / off and adjusts temperature; dial controls temperature
TempAssure® thermostatic valve keeps water temperature within a safe ±3° F (±1.6° C), helping to protect you from sudden changes in hot or cold water pressure
Trim kit only, must order MultiChoice® Universal Valve separately to complete the unit
Recommended rough-in kit R22000
ADA Compliant
Special Features
Brilliance® Finish
Many Delta products are made with Brilliance® finishes, which resist abrasions and discolorations better than traditional brass or even chrome.
ADA Compliant
Some people, and some local codes, require fixtures that are compliant with the Americans with Disabilities Act. If someone may visit who has special needs, or if you believe future buyers might appreciate this feature, Delta offers a range of compliant fixtures.
Documents & Specs
Product Support, Repair Parts & Technical Specifications
Reviews
Q&A
Part List