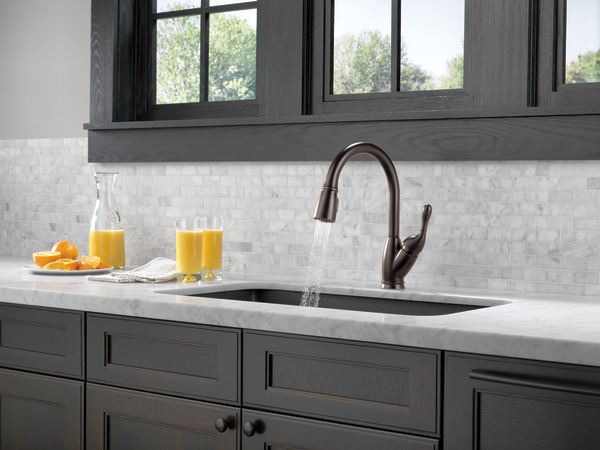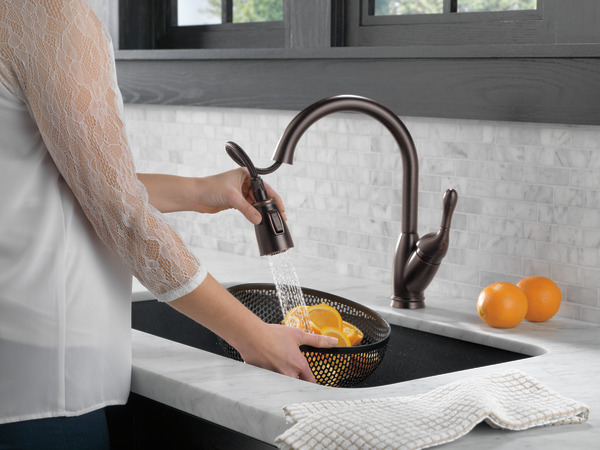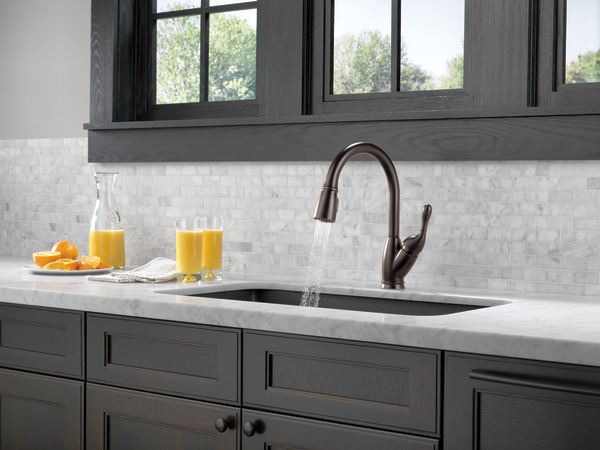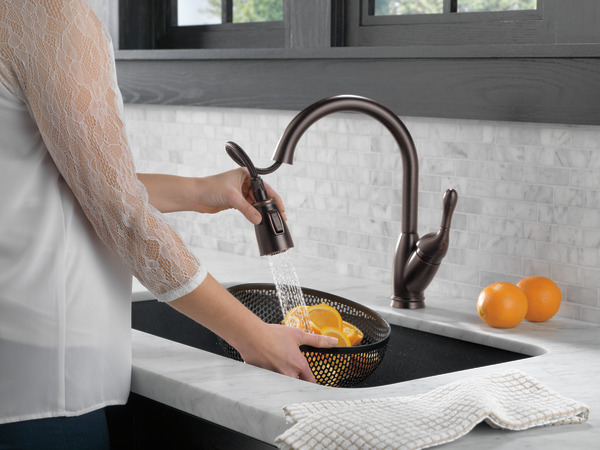 1 or 3-hole installation
Delta MagnaTite Docking holds spray wand firmly in place
Backed by Delta Faucet's Lifetime Limited Warranty
Product features
The pull-down spray wand comes free with a gentle tug and gives you total flexibility. The hose extends and retracts without friction points, fed by gravity. As you raise the wand to dock it, the magnet embedded in the spout pulls the wand precisely into place. So, unlike other pull-downs that tend to droop over time, MagnaTite® keeps your pull-down faucet looking picture-perfect. A toggle on a Multi-Flow™ wand increases the stream from the standard 1.5GPM to a higher flow to more quickly fill the sink as well as pots, vases, or other large containers. Toggle back to 1.5 GPM for normal, everyday use. The innovative Multi-Flow feature can be found on a variety of Delta kitchen faucets. Delta's exclusive DIAMOND Seal® Technology uses a valve with a tough diamond coating. InnoFlex® PEX waterways keep water inside the faucet out of contact with potential metal contaminants. This powerful combination brings you a faucet built to last up to five million uses. Only Delta faucets are equipped with Touch-Clean® soft, rubber nubbins that allow you to easily wipe away calcium and lime build-up with the touch of a finger. The included escutcheon completes the ensemble for a more finished look.
MagnaTite docking keeps the kitchen pull-down spray wand firmly in place with a powerful integrated magnet, so it stays docked when not in use
Meets standards set by Americans with Disabilities Act
Touch-Clean spray holes allow for easy removal of hard water build-up
1 or 3-hole installation
Includes optional 10-3/4 in. escutcheon
The high-arc, gooseneck design swivels 360 degrees with a 20-in. retractable hose for added convenience during everyday kitchen tasks
Technology
DIAMOND™ Seal Technology
DIAMOND™ Seal Technology is Delta's revolutionary new water delivery system. An internal contact surface made up of tiny diamonds makes the valve leak-free and extraordinarily durable. It also keeps water free of contact with potential metal contaminants.
Special Features
With Side Sprayer
Side sprayers let you get the spray right up near what you're cleaning or filling, without too much splashing. They are ideal for washing vegetables or big pots and pans, or for cleaning the sink itself.
ADA Compliant
Some people, and some local codes, require fixtures that are compliant with the Americans with Disabilities Act. If someone may visit who has special needs, or if you believe future buyers might appreciate this feature, Delta offers a range of compliant fixtures.
Documents & Specs
Product Support, Repair Parts & Technical Specifications
Installation Information
1 or 3-hole 8" installation
Optional Escutcheon Included
1.80 gpm @ 60 psi, 6.8 L/min @ 414 kPa
Included InnoFlex® Pex-C Supply Lines
Reviews
Q&A
Part List