Single Handle Pull-Down Bar/Prep Faucet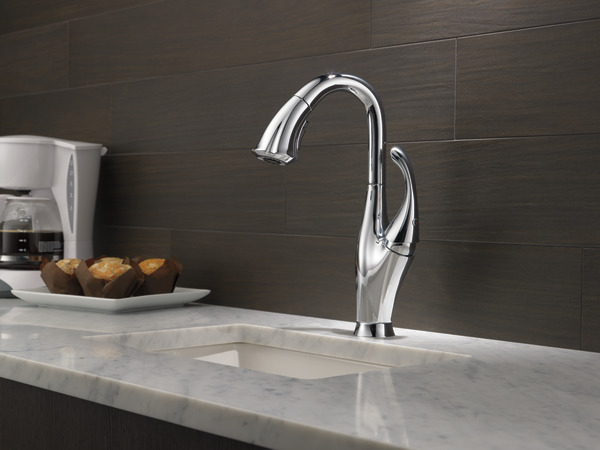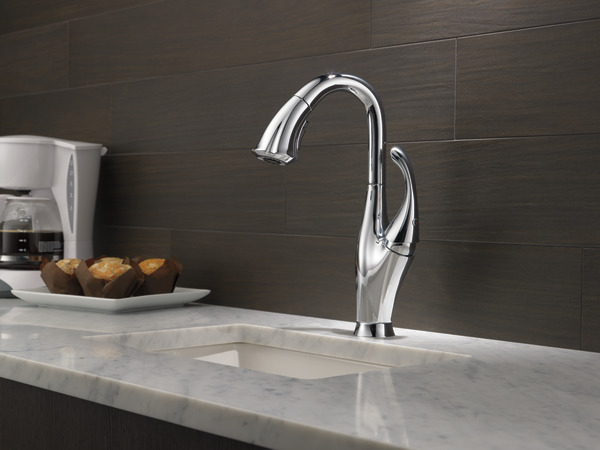 Single Handle Pull-Down Bar/Prep Faucet
1 or 3-hole installation
Delta MagnaTite Docking holds spray wand firmly in place
Backed by Delta Faucet's Lifetime Limited Warranty
Product features
High-arc spout swivels 360º for complete sink access
The pull-down spray wand features a 62" hose providing a 20" reach
Multi-Flow™ delivers both 1.5 gpm stream and spray settings for water efficiency and 2.0 gpm stream
Optional 10 1/2" escutcheon for 3 hole mounting available.
Technology
MagnaTite® Docking
The pull-down spray head utilizes a powerful magnet which keeps the wand securely in place when not in use. No more dangling!
DIAMOND™ Seal Technology
DIAMOND™ Seal Technology is Delta's revolutionary new water delivery system. An internal contact surface made up of tiny diamonds makes the valve leak-free and extraordinarily durable. It also keeps water free of contact with potential metal contaminants.
Special Features
Touch-Clean®
Rubber spray holes allows easy cleaning with the touch of a finger.
Multi-Flow™ Spray Wand
Water-Efficient
No-Lead Compliant
Compliant with State and Federal drinking water legislation.
Brilliance® Finish
Many Delta products are made with Brilliance® finishes, which resist abrasions and discolorations better than traditional brass or even chrome.
ADA Compliant
Some people, and some local codes, require fixtures that are compliant with the Americans with Disabilities Act. If someone may visit who has special needs, or if you believe future buyers might appreciate this feature, Delta offers a range of compliant fixtures.
Documents & Specs
Product Support, Repair Parts & Technical Specifications
Installation Information
1 or 3-hole 8" installation
Optional Escutcheon Available
1.5 gpm @ 60 psi, 5.7 L/min @ 414 kPa
Included InnoFlex® Pex-C Supply Lines
Reviews
Q&A
Part List